Bologna day trip: What to see and do in 8 hours
published on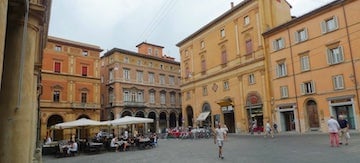 A Bologna day trip is the perfect reason to come to this beautiful urban part of Italy. The city with its kilometres long hallways, surrounded by astonishing buildings, will always remain in our hearts.
Only one day was left of our journey to Italy and we had to leave in less than a day. We took the train from Jesi, changed it in Falconara Maritima and arrived in the buzzing train station in Bologna.
Bologna day trip: How to spend eight hours here
Our flight was in the evening so we decided to leave early from Jesi and spend the day in Bologna — and what a great choice that was. Once we stepped onto via dell'Indipendenza, a long street with cafés, bars and shops, we felt the warm vibe this city gave off.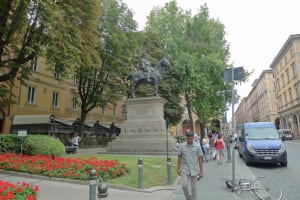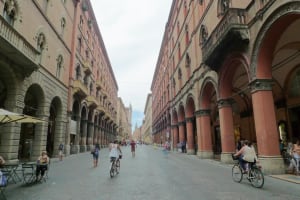 On that street is Cattedrale di San Pietro, an impressive cathedral with a pure white interior, beautiful paintings and other important items.
The most important thing, however, are the items of artistic and spiritual value from the 14th century.
Piazza Maggiore
After we left the cathedral, we went to look for Piazza Maggiore, the central square in Bologna and a popular place to meet in this city. If you decided to go on a Bologna day trip, make sure to visit this square.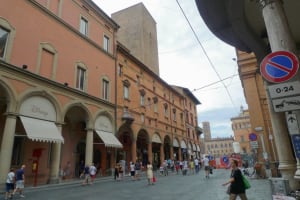 Right next to it is Piazza del Nettuno with the famous Fontana del Nettuno. Built between 1563 and 1566, this statue has been made by Giambologna. At its bottom sit four angles, representing the rivers known to the people back then: Gange, Nile, Amazon and Danube.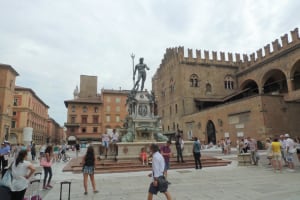 Piazza Maggiore is surrounded by impressive, historic buildings of religious and administrative nature; the oldest one being Palazzo del Podestà. Built in 1200, it once served as the residence for the police and justice department. A few years after it had been built, it was extended to house Palazzo Re Enzo, named after Enzo of Sardinia, son of the Hohenstaufen emperor Frederick II.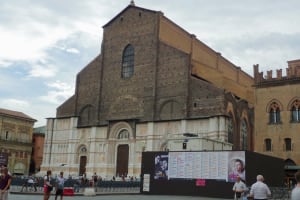 During your Bologna day trip, don't forget to visit Palazzo d'Accursio, the former town hall; since 2008, it's a museum and library. In front of the justice palace, you can find the famous, unfinished facade of the church Basilica San Petronio. Construction of this Italian Gothic masterpiece started in the 14th century but was never finished, in the end. On the east side of the square is Palazzo dei Banchi, the former central bank, built at the end of the 16th century. This is probably the only building with a rather simple facade.
In Maggiore square, you can visit the tourist info, get some information regarding Bologna and also grab a map to find your way around the city.
Quadrilatero
After looking at the beautiful architecture in Maggiore, we walked along the street Via dell'Archinginnasio, where we saw the Palazzo dell'Archinginnasio, the first residence of the University of Bologna; today, it houses the cities' library and the Anatomic theatre.
For a few minutes, we got lost wandering around the narrow streets, but eventually found our way into the old market Quadrilatero. We promised ourselves that, the next time we'll come to Bologna, we'll stay a few months and cook using all the fresh ingredients you can find here.
Somewhere in this market, we ate pizza. Alina chose one with prosciutto di Parma and squacquerone, a creamy cheese from the Emilia Romagna region. Of course, we also ate some ice from two ice-parlours nearby.
The towers of Bologna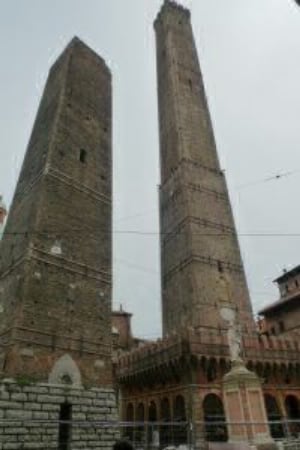 After our culinary experience, we wanted to visit the towers Asinelli and Garisenda in Piazza di Porta Ravegnana. In the past, there were no less than 180 towers in Bologna, all built by noble families between the 12th and 13th century. Only 20 are left today and the two most famous ones are Asinelli and Garisenda — the city Bologna is known for these two.
The tower Asinelli is the highest one, reaching 97 metres (318 feet). You have to climb 498 old, wooden stairs to reach the top; and the interior is quite narrow.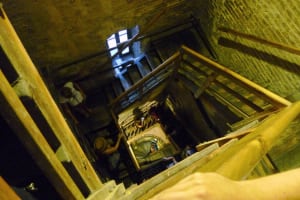 Once on the top, you have a 360-degree view over the city, an impressive sight, no less.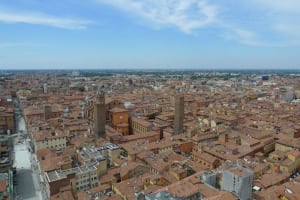 The smaller tower Garisenda is only 47 metres high and not open to the public. If you want to climb up to Asinelli, you have to visit between nine and 18 o'clock and fork out three Euros.
The University of Bologna
After climbing down from Asinelli, which turned out to be a difficult task for Deian because he's afraid of heights and you can look down a few storeys, we walked to the academic campus. Here, you'll find Europes oldest University, the University of Bologna, founded in 1088. The academic campus is very colourful, lively and, of course, full of students. We sat down for a few minutes and listened to the rumblings of those young ones, ready to learn new things and apply their knowledge later on.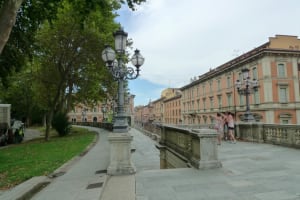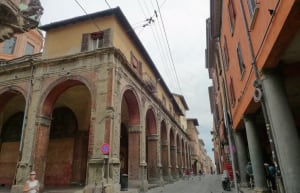 Looking at the clock, we realised that our Bologna day trip had to come to an end; it was time to go to the Bologna airport. On our way, we took a short break in Parco della Montagnola, a quiet public park from the 17th century. There are a few interesting statues here, but we appreciated the shade a lot more.
Arriving in front of the train station, we made yet another promise: to return one day to Bologna. Alina wants to go back to Quadrilatero, buy all the ingredients available and cook delicious meals; and Deian, he just wants to battle his fear of heights, climbing Asinelli once again.