Tortuga Air 2 travel backpack review
published on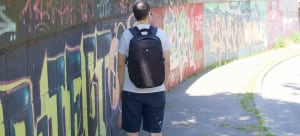 Like many digital nomads, we like to travel with carry-on-luggage only — and that is why we bought ourselves each a Tortuga Air 2 travel backpack. Read our review and find out how well this backpack is made.
When we decided to become digital nomads, we knew that we had to get rid of most of our belongings and travel only with the most necessary things. In the beginning, Alina had her doubts if she would be able to fit everything into one bag. Turns out: It's not that hard once you realise that you don't necessarily have to carry around so much stuff you won't ever use.
Why we chose the Tortuga Air 2 travel backpack
Minimalism has fascinated Deian for quite some time. In 2016, he proposed to give the one-bag-challenge a chance. We started looking for a travel backpack that would meet the requirements of European airlines.
Another important criterium for us was a separate laptop compartment for our laptops. A normal backpack wouldn't have worked for us.
Update: The Tortuga Air 2 is out of stock and not for sale anymore. You can still buy one of the newer models directly from Tortuga.
After a few days of research, we narrowed down the list of backpacks to the Tortuga Air 2, Minaal Carry-on 2.0 and Osprey Farpoint 40. While we loved the Minaal from the first time we laid eyes on it online, the price was a bit too much for us. Not necessarily the price for the bag itself but the costs involved in importing it. Of course, the same goes for the other two companies since they are all from the US; however, at the time, Tortuga had a huge sale and the Air 2 was insanely cheap.
After we had done some calculations and established the cost of importing two Tortuga Air 2 backpacks, we started reading reviews. Of course, a good price is important, but the carry-on still had to be really good.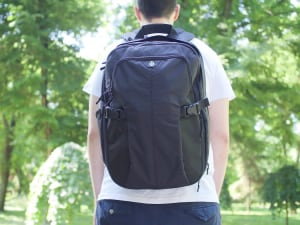 Not only were there many positive reviews on the Tortuga website (which has been redesigned in the meantime and the reviews are gone now), people on Amazon and also many fellow digital nomads, adventurers and other travellers seemed to love this backpack from Tortuga.
We had read enough and knew that it was perfect for us. So we ordered two Tortuga Air 2 and two rain covers to keep the backpacks dry in case of a nasty storm.
Packing the Tortuga Air 2 for the first time
Alina's first thought when we got our hands on the Tortuga Air 2 travel backpack:
It looks a lot smaller than I imagined it to be.
Indeed, it did. But here is the thing: The backpack is 27 litres big in its normal form and can expand to up to 35 litres.
Well, I still don't think I will be able to fit everything inside it.
After a short conversation, we knew we had to test the Tortuga Air 2 to truly measure its potential. And so we did a few weeks later.
At the end of 2016, we travelled to The Netherlands and Belgium, where we spent one week in each country (our travel stories will follow soon). This was the first time we had been travelling with only one bag and it turned out to be a lot of fun. We would have never imagined how flexible you can be with just a backpack on your shoulders. Casually check in at the airport, board the plane, get off and go to your destination; no more waiting for your luggage, no more praying that it arrived undamaged.
What did we pack for two weeks?
Alina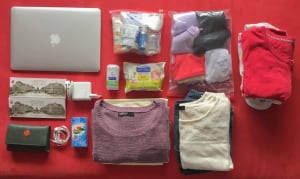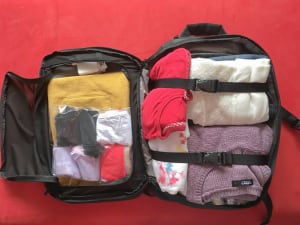 | | | |
| --- | --- | --- |
| Clothes | 1 litre zip bag | Other |
| 1× pyjamas | remover pads | 1× MacBook Air Mid 2012 + cover |
| 1× house shoes | plaster | 1× MacBook Air charger |
| 6× panties | redness relief serum | 1× Apple Earpods |
| 6× socks | exfoliant | tissues |
| 1× jeans | 100ml make-up remover water | 1× wallet |
| 1× undershirt | 10ml scrubs | 1× Tourist guides about Timisoara for our Airbnb* hosts |
| 1× blouse | 60ml moisturising cream | 1× iPhone SE |
| 1× pullover | 50 ml cleansing lotion | 1× hairbrush |
| wet wipes | 100 ml hand cream | 1× toothbrush |
| cotton swabs | 60 ml SPF cream |   |
|   | 3.5 ml moisturising oil |   |
|   | 1× travel deodorant spray |   |
|   | intimate gel |   |
 Total weight: 6.8kg (14.99lbs)
Deian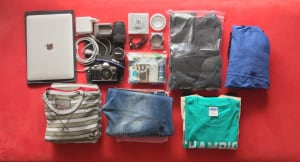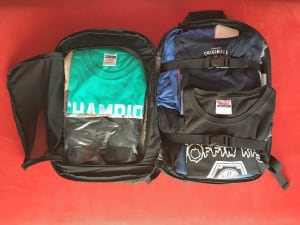 | | | |
| --- | --- | --- |
| Clothes | 1 litre zip bag | Other |
| 1× pyjamas | 1× toothpaste | 1× Olympus OM-D E-M10 Mark II |
| 1× house shoes | 1× travel deodorant spray | 1× Olympus charger |
| 4× t-shirts | 100 ml mouthwash | 1× Olympus M.ZUIKO DIGITAL 25mm 1.8 lens + lens hood |
| 6× socks | 100 ml shower gel | 2× lens filters |
| 1× towel | 100 ml shampoo | 1× Olympus M.Zuiko Digital ED 40-150 mm 1:4.0-5.6 R lens |
| 1× jeans | 50 ml perfume | 1× GOBE Explore SDXC card |
| 6× underwear |   | 1× SanDisk Extreme Pro 32 GB SDHC card |
| 1× pullover |   | 1× MacBook Pro 13″ Late 2016 no TB |
| wet wipes |   | 1× MacBook Pro charger |
| cotton swabs |   | 1× Wallet |
|   |   | 1× Nokia Lumia 630 |
|   |   | 1× toothbrush |
Total weight: 7.1kg (15.65lbs)
Things we shared: Hand and moisturising creme, toothpaste, mouthwash, shower gel, shampoo and perfume.
Our first trip with the Tortuga Air 2 carry-on backpack
In the pictures above, you might have noticed that we didn't optimise a lot besides compressing our underwear in a zip bag. We still managed to stuff everything we needed in it for two weeks; one backpack wasn't even fully expanded.
The first test was obviously to see how the material would hold up. We flew from Timisoara (Romania) to Weeze (Germany) and took a Flixbus to Antwerp. Once we arrived, it started raining like crazy. Great, we thought, let's test those rain covers.
From the train station where the Flixbus leaves you in Antwerp, we had to walk half an hour to our Airbnb host. The Tortuga Air 2 was completely dry when we arrived. So far, so good.
The following day, we transformed Deian's Tortuga Air into a daypack because we didn't have one at the time, so his carry-on had to do the job. Thankfully, the Air 2 isn't terribly big and, once you stuff it with some cloths and water bottles, it is comfortable on your back — and of course, our laptops where always with us.
Still, we didn't initially plan to use our carry-ons as daypacks. But we didn't find a daypack we liked before we left Romania so we had to improvise. To our surprise, the Tortuga Air 2 is a pretty okay daypack, although a bit too big to be used all the time.
After one week in Antwerp, we took another Flixbus to Nijmegen (Netherlands). We spent six days in the beautiful city and, once again, used one Tortuga Air as a daypack. The laptop compartment turned out to be incredibly useful during our travels. Deian even pulled out his MacBook Pro on the ride from Antwerp to Nijmegen and wrote a few articles for his clients.
The small compartment on top is being used by us for our Olympus OMD-E M10 Mark II camera; it fits perfectly and snug in there and can easily be pulled out for a quick shot.
Tortuga Air 2: Compartments and comfort
After our two weeks long journey, we evaluated the quality of the Tortuga Air 2 travel backpack and came to the conclusion, that it was quite comfortable and practical. It has padded straps, a chest strap and a nice padding against your back. It doesn't have a hip belt, which you only get if you buy the big brother Tortuga Outbreaker. However, the Air 2 is not that big so we don't think that it's necessary.
It is very important, however, to distribute the weight correctly:
heavy items should be near your back and at the bottom
make sure that they're distributed evenly
put items you need often in the front compartment
The many compartments of the Tortuga Air 2 are enough for our needs. There is, of course, a separate one for your laptop and in the front pocket, you can stuff all sorts of cables, your wallet, your Nintendo Switch, passport and other small things. The side pocket for the water bottle could be a bit larger, we think.
6 months later: How the Tortuga Air 2 carry-on backpack holds up
The first time we used our Tortuga Air backpacks, it was pretty cold and rainy. We didn't want to rush a review because the carry-ons had to be put to a proper test. Half a year later, we've used them on all our trips in different conditions. How did the backpack hold up?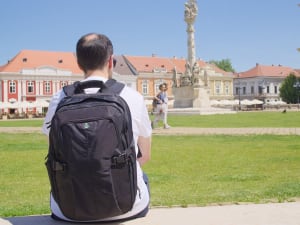 Well, we can comfortably say that it not only met our expectations but also exceeded them. We couldn't find a single fault, nothing tore apart or got damaged so far. Of course, we do take very good care of any product we use, but the Tortuga Air 2 travel backpack still seems to be a very robust carry-on. We highly recommend getting a rain cover and using it even when it doesn't rain because it protects the backpack in harsh environments. Buying a new rain cover is much cheaper than a new Tortuga Air 2.
Tortuga Air 2 travel backpack giveaway
At this point, you should have realised that we are huge fans of the Tortuga Air 2 travel backpack. In fact, we like the carry on so much that we're giving a brand new one away. Enter our Tortuga Air 2 travel backpack giveaway below for a chance to win. The giveaway runs until August 8th, 2017.
Update: Our giveaway has ended. Thank you to all participants and congratulations to the lucky winner.