10 cafes and restaurants in Oradea worth visiting
published on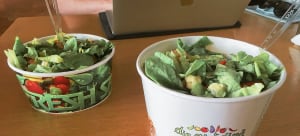 Freshly brewed coffee, tasty ice-cream and other healthy food — this is what we chose to eat during our three-day stay, wandering through a lot of restaurants in the city Oradea.
If you ever find yourselves in Romania, visit Oradea. This lovely city is only a few kilometres away from the border to Hungary. It's one of the lesser appreciated cities in Romania, a rough diamond, you might say. Rough is a strong word, however, because Oradea has been turned into a majestic city in the last years. The historic city centre has been renovated, the mighty citadel also looks like new and houses many restaurants and cafes. Most restaurants in the city Oradea serve traditional food, but you'll also find Mediterranean dishes or food from the orient; the Asian cuisine is also present.
During our short stay, we chose places to eat or drink at that sparked our interest or were recommended to us by locals. You should do the same because the people living in Oradea are the best guides you'll find. This is important, especially if you're vegetarian or vegan. Deian was vegetarian back then (now he's vegan) and our food choices were a bit bigger than they'd be today. Alina did most of the research and found a few special restaurants and cafes we'll share with you below.
1. Origins Cafe
We had just arrived in town, were quite tired and felt the urge to get some caffeine into our system. So, we decided to find a cafe and stumbled over Origins Cafe, a small place in a narrow street in the historic city centre, behind a few public institutions. The guy serving us was always in a good mood and told us a bit about the city. During our first visit, we shared a cappuccino, a latte macchiato and a carrot cake. The latter was extremely tasty; the fine creme made from cheese melted in our mouths and left a great after taste — not too sweet, just perfect.
The coffee was also great, brewed at the right temperature — not too hot, not too cold. We came back a few times to get another caffeine kick. The second time we visited, we decided to give the chocolate cake with sour cherries a go — what a great choice that was.
Address: Strada Franz Schubert nr.1
2. Din grădină
We had lunch twice at Din grădină (From the Garden), a lovely little place that serves fresh salads, sandwiches, wraps, creme soups and desserts. Most of them are vegetarian, although they also have meat-based dishes, vegan and raw vegan options; the latter are mostly desserts.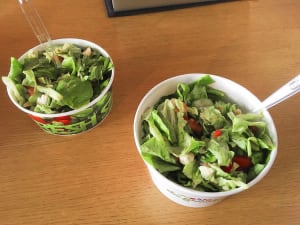 The first time we walked in, Alina chose a salad with chicken breast, blue cheese and nuts; Deian opted for a salad with mozzarella cheese, avocado and vegetables. A day later, Alina decided to eat a wrap with tuna and Deian liked his first choice so much he ate another salad. If nothing in the menu tickles your fancy, you can also make your own salad.
The bright little bistro is nicely decorated with wooden tables and high, comfortable chairs. It's also a good workplace; Deian actually took his notebook out until our food was ready and got some work done.
Address: Strada Republicii nr.25
3. Leon Gourmet Bakery
Next to bistro mentioned above, you can find Leon Gourmet Bakery, another place you should check out if you're in the neighbourhood. They have tasty pastry and also serve lunch.
Address: Strada Republicii nr.27
4. Pizza e Panino by Due Fratelli
One day, a rain shower caught us by surprise and we decided to take shelter inside Pizza e Panino by Due Fratelli. The name probably gives it away — you can eat pizza and panini at this bistro. We opted for the latter. Alina chose one with beef and Deian with vegetables. There actually wasn't any vegan/vegetarian offer, so Deian just told the waitress to prepare it without meat. The panino was tasty, its bread crunchy and we liked the chosen vegetables (especially the beetroot). We can recommend this place if you want to grab a quick bite or take something on the go.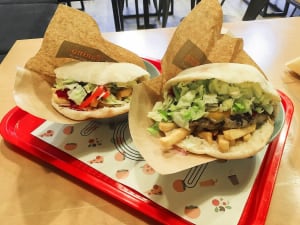 There are two more bistros from Due Fratelli in Oradea: Pizzeria Due Fratelli and Piadineria Due Fratelli. Being piadina fans, we wanted to visit the second one but didn't make it in time. If you visit it, leave your review in the comments.
Address Piadineria Due Fratelli: Strada Republicii, nr.13
Address Pizzeria Due Fratelli: Strada Roman Ciorogariu, nr.39
Address Pizza e Panino by Due Fratelli: Strada Republicii (next to RDS-RCS)
5. Bacio Dolce
After we had visited a lovely old house that has been transformed into a museum and a synagogue later, we wanted to take a break and taste something good. Right next to the synagogue is Bacio Dolce.
We entered the gelateria, gazed through its display case and wondered for some time what to choose. In the end, we shared a chocolate cheesecake and three cups of ice-cream. You should definitely visit this ice-cream parlour if you love good ice-cream and cakes.
Address: Strada Independenței nr.24
6. Bianco Milano
Another great place for ice-cream lovers is Bianco Milano. Here, you can eat authentic Italian ice-cream. The selection is big and everything seems to be of high quality. After taking a look at the selection and not being able to make up our mind, the girl explained all the different flavours.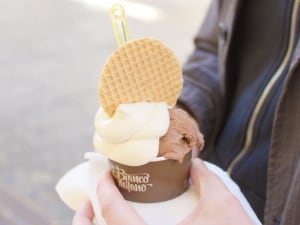 Tasting the ice-cream, Alina remembered our short trip to Bologna, where we ate a lot of tasty ice-cream.
Address: Strada Republicii nr.10
7. Lactobar Retro Bistro
Lactobar is a curious place that sparked our interest by displaying a huge cow at the entrance and an old, modified Dacia car inside. The interior is decorated with vintage objects from all over Romania, it seems.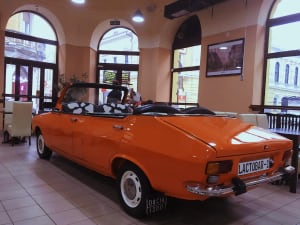 The food menu is quite diverse: you can choose from burgers, sandwiches, pizza, panini and a handful of desserts. We chose panini and drank a tea. The food isn't out of this world, so if you're not starving, visit this place, have a drink and take pictures with yourselves sitting in the car. The vintage interior is definitely worth a visit; it reminded us of our childhood and even has that authentic smell to it.
Address: Strada Republicii nr.11
8. Semiramis Cafe
This is the cafe where we felt right at home. The coffee was great and so where the homemade cookies. Semiramis Cafe is beautifully decorated and the cafe creates a cosy atmosphere — you just feel right at home.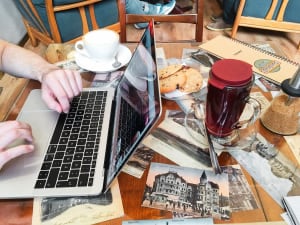 Actually, we felt so good here, that we took out our laptops out and started working. Even if the cafe isn't located in the city centre, we wholeheartedly recommended coming here at least once, especially if you need a place to work from.
Semiramis Cafe even has a little shop where you can buy coffee, tea and different accessories; the shop is next door in the same courtyard. Some people even say this is where you'll find the best coffee in Oradea.
Address: Strada Primăriei nr.23
9. Restaurant vegan CRIS
Restaurant vegan CRIS is a good location for a vegan lunch, which is served from Monday to Friday between twelve and three o'clock. Of course, you can visit this restaurant in the morning or evening and order from the menu – and boy, there is a lot to choose from: starters, soups, main dishes, garnishes, pasta and desserts. The food is, as the name of the restaurant suggests, vegan. But: Some desserts contain honey (miere).
We visited this vegan restaurant for brunch on the day we left Oradea. After sleeping in a bit longer than usual, we were scheduled to leave around noon. Deian chose pasta with a vegetable sour cream alternative and tofu; Alina went for pasta with mushrooms, sour cream and tofu. The pasta was al-dente and the sauces good. The next time we'll visit Oradea, we'll probably visit again for lunch and try the menu of the day.
Adress: Strada Independenței, nr.51
By the way: The restaurant isn't far away from the citadel so we recommend visiting that one if you choose to have lunch here.
10. Petit Cafe
This little cafe made us feel like we teleported into a different country. It's situated in the Park of Freedom (parcul Libertății), on the river bank of the river Crișului Repede, surrounded by a lot of old trees. Right across it is the Bridge of the Intellectuals (podul Intelectualilor), a 150 years old pedestrian bridge full of history.
The cafe is a great place for anyone who wants to spend some time surrounded by nature, have a good, warm drink and tasty dessert. We loved the quiet atmosphere and the calm people visiting this place with their positive atmosphere.
The restaurant CRIS and cafe Petit where recommended to us by our Airbnb host, Lucian.